Well, this is a long-awaited post (if not by you, then by me since I've been lacking in consistency). A lot of food has gone under the bridge in the last week or so. I'll go over part of it now.
Interior, take from about where we sat.
On Friday night, I went to dinner to a Jamaican restaurant in Medford. I've never even been to Medford, so the entire thing was something new to me. First of all, I fell in love with Medford. It is all original homes from the 1700s, built by the first settlers to the area. I just love old towns with original architecture.
But, then I enjoyed one of the most fabulous meals I have EVER had the pleasure of eating in my life! We dined at Scotch Bonnets, a new restaurant that opened just this past March, by a woman who immigrated from Jamaica. I had the Country Time Chicken Curry and my dining companion had the Coastal Curry Shrimp.
As an appetizer, we had Calypso Cod Fish Cakes. Honestly, I didn't think I'd like them. I didn't like the sound of "salted cod" as an ingredient. I had wanted the Plantation Pastry Patties (seasoned ground beef surrounded by flaky puff pastry and baked). But, his wishes prevailed and I was surprised to learn that I liked the cakes. They weren't fishy or even all that salty. And, they were very thin - not thick like crab cakes (which is the image I had in my mind.)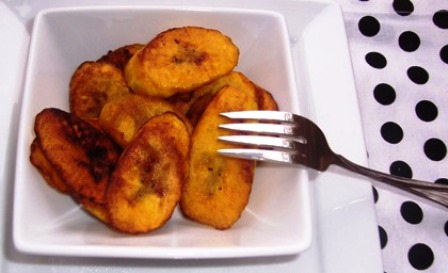 Fried Sweet Plantains
For sides, he chose steamed mixed vegetables and I chose fried plantains. I thought his vegetables were very interesting because they actually shredded them before steaming - almost like they were preparing them for a slaw. I might actually enjoy veggies prepared like that since they would cook more thoroughly for my taste. The plantains were wonderful, as they always are wherever I get them.
Scotch Bonnet's Curry Chicken
But, when our entrees arrived, I was at first hesitant because I know they cook with scotch bonnets, but had been assured that the curry chicken was fairly mild. Plus, the pieces of chicken still had bones and I am not fond of picking bones. But, WOW!! I didn't expect the meal to taste so fabulous that I couldn't stop eating!! There was no heavy curry flavor, the chicken was literally fall off the bone tender (I never had to use my knife) and the potatoes tasted as though they'd been roasted before being added to the broth with the chicken. They were great!
After dinner came dessert. Because we'd purchased a coupon for a discounted pre fixe meal, that meant we had to share dessert like we had the appetizer. They gave us our choices and the two that sounded OK to me were coconut rum cake and coffee rum cake. He agreed to the coffee rum cake. HOLY COW!!! There was no skimping on the alcohol on that cake!!! The menu says it was Jamaican rum and port wine. I don't doubt it in the least. But, you know what? It was really good!! Not a dry crumb in the entire slice.
The only disappointing thing about our visit was that the service really and truly needs to be improved. It's not that they weren't helpful or weren't pleasant. It was more that they just "weren't" - there to wait on us, there to bring us plates so we could eat our appetizer, there to take our orders. The owner was there often making sure our glasses were filled and that we were enjoying our meals, but the server seemed overwhelmed. Fortunately, the food was spectacular enough that I would still go back.