I hate to cook. I know that may sound strange coming from someone who loves looking at recipes, collecting cookbooks and having all sorts of convenient kitchen gadgetry on hand, but I really do. That was Mom's domain and she did not allow anyone to interfere with her while she was in the kitchen. Part of it was that the kitchen simply wasn't big enough for more than one person to work at a time. But, other than the occasional opening of jars or measuring of ingredients, she simply enjoyed the entire process too much to share.
That was fine by me. I enjoyed pursuing snips and snails and puppy dog tails more than sugar and spice. I just didn't get any pleasure out of anything that was considered "girly". Sure, I had Barbie Dolls. I had a nurse doll at some point. But, my favorite things were Matchbox cars, models, those plastic army men you could buy with the coupon from the back of comic books, playing "hide and go guns" (a game with the kids across the street), climbing trees and The Three Stooges (in fact, I was watching them before I could say "Stooges".) I didn't know these things were considered boy things. I just knew I was having fun. Needless to say, I didn't really get much instruction in cooking.
I hated home ec; at least the cooking part of it. I hated standing by the stove and watching over the food waiting for it to finish cooking, trying to remember to stir frequently to avoid burning. I still do. I still burn food.
It didn't improve much while I was married, other than I did learn a thing or two about how to cook certain meals without needing a recipe or without measuring every single time I made it. Not that I can do that with any recipe like my mother could, but I did become more and more comfortable with what I could do.
I did cook for my mother daily while I was her caregiver and could ask for help as needed, but mainly I just cooked what I wanted and let her be my "guinea pig" as I tried some things I'd wanted to make but couldn't because of a resistant audience. My goal became to have a meal turn out tasting like it took hours to make. I think I succeeded in many cases.
I'd like to share a few recipes with you that I made that were well-received and fairly easy and quick to put together: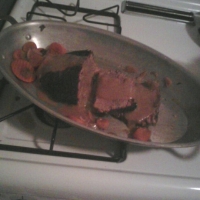 My Roast on the stove
German Beer Braised Pot Roast
1 tsp. black peppercorns, crushed
1 c. beef broth or bouillon to make 1 cup
2 tsp. molasses or dark beet syrup (Ruebensirup in Germany) [I felt this made the recipe a bit too sweet]
1 T. butter (I left this out - enough fat in the liquid from the meat & bacon)
Heat oil in Dutch oven. Brown roast sharply on all sides and remove. Lay the bacon on the bottom of the Dutch oven, place the browned roast on it and sprinkle with salt.
Place onions, carrots and spices around the sides of the roast. Pour the beer and the broth over the roast, then mix the vinegar with the molasses and add to the liquids. Liquids should be 1 to 2 inches deep. Place lid on pan and simmer for 1 1/2 to 2 hours, or until meat is tender.
Remove roast and cover with foil to keep warm. Strain and reserve the broth. Melt the butter in the pan, add the flour and cook, stirring, for 1 minute. Add 2 cups of reserved broth, a little at a time and stirring the sauce smooth after each addition.
Add pepper, salt, vinegar or sugar to taste.
Serve sauce (gravy) over roast. This roast is good with braised cabbage or mixed vegetables and potatoes to soak up the gravy.
This was a very good meal other than I thought it was too sweet. I'll probably reduce the molasses the next time.
Mongolian Beef -Wikimedia Commons
Super Easy Pepper Steak
1/4 inch thick (I cut up three 6-oz strip steaks)

1/4 c. flour (I mixed this with the extra broth I added)

3 tbsp. Wesson oil (I used olive oil)

1 c. diced green pepper (I used about 1 1/2 cups of large diced)

1 c. water (I used chicken broth and increased the amount of liquid)

1 c. onions, chopped large-ish

Cut steak into strips about 2 inches long and 1 inch wide. (Don't worry about precision - however the steak cuts up for you work with.)

Pound the strips to help make them tender. (I didn't do this.)

Brush soy sauce on each side of meat strips, then sprinkle with flour. (I added the soy sauce after sautéing the steak and veggies.)

Brown steak strips in Wesson oil over medium heat.

Add green pepper and saute a few minutes, then add water (broth).

Cover and simmer 35 to 45 minutes until tender (Honestly, I didn't have to cook it this long - it was all done in about 30 minutes. I added the extra broth with flour mixed near the end to thicken mixture).

6 servings.

Hot fluffy rice belongs with this dish. (We used egg noodles because my daughter doesn't care much for rice. I prefer rice.)
Hot German Potato Salad -Wikimedia Commons
Easy Hot German Potato Salad
1 box (6oz) scalloped potatoes
1 heaping tsp onion flakes
Forty minutes before serving, fry bacon crisp and drain. Crumble bacon. Drain fat, empty potatoes into pan with seasoning; stir in 3 cups water, onion flakes and sugar; cover and cook on low for 30 minutes until potatoes are tender. Stir in vinegar and bacon bits. Serve hot.
I hope you enjoy these recipes as much as I did. They're easy to make and taste great!