This month's challenge, sponsored by Marie Anne St Jean, is to run through the alphabet in reverse, one letter per day except for Sunday. You can learn more, including how to participate, here.
Now, it's time for the letter of the day. And, for me, that means FOOD!
I've decided to offer up some interesting recipes I'd like to try featuring foods beginning, or connected to, the letter "Z". Every image here is also a link to the recipe it represents.
The first of these is Chicken Broccoli
Ziti
with Lemon Cream Sauce by Sunkist®. I happen to like Chicken or Flounder Francaise with its delicately flavored lemon sauce. If this is anything like that or like Avgolemono in flavor, I'll like it as well. I mean, chicken, broccoli and ziti together PLUS that creamy sauce? I'm drooling already! Best of all, it looks EASY!!
Looking for a new way to do chicken? Then I think this one might just be on the ticket at your next meal.
Zesty
Slow Cooked Chicken Barbecue. I know I'd love it to be on mine (if only my daughter would eat barbecue!) So, get put some ears of corn on the stove and make some cole slaw and macaroni salad, because that's what will go perfectly with this one. ((Hmmmmm...I wonder if this tastes like pork?)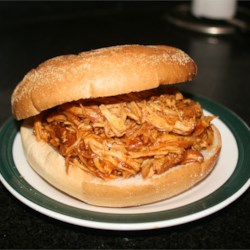 Speaking of pork, there is a fabulous looking recipe that uses pulled pork in an entirely new way. Well, it's new to me, anyway. I think it's worth trying. It was created by the
Zesty
Cook on his web site.
Feel like having an oceanic white meat instead of something land-based? How about some halibut seasoned with lemon
zest
and Parmesan cheese? (Just so you know, I MUST go get something to eat as soon as I'm done here because my stomach is growling furiously!)
Has this all left you thirsty? Maybe you enjoy having a cocktail with your meal. I happened upon this particular recipe while prancing through the plethora of options and thought it looked pretty appetizing. I'd definitely accept it if offered. And, yes, it does make use of Orange
Zest
.
That pretty much concludes the dining portion of my offerings today. I hope you have enjoyed salivating over each and every entry (and entree).